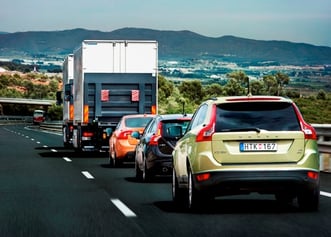 Operating a motor vehicle is a responsibility that cannot be taken lightly. Motor vehicles are a normal part of our everyday life, but when operated in a reckless manner, they can be as dangerous as any weapon. Recently in the news, a Canadian jury in Montreal found a motorist guilty on two counts of criminal negligence causing death. In Canada, this conviction can carry up to a maximum life sentence in jail.
Apparently, the Defendant, Emma Czornobaj, stopped her vehicle in the left lane of a highway after she spotted some ducklings. Reports say Czornobaj planned to put the ducks in her car. Not expecting a car parked in a lane of the highway, motorcyclist Roy Volikakis, riding with his 16 year old daughter as a passenger, encountered the parked car, tried to stop, but they were not able to stop in time. Roy's motorcycle slammed into the rear of Czornobaj's car. Mr. Volikakis tragically passed away at the scene in his wife's arms. The Volikakis' daughter, Jessie, was pinned under another vehicle died later at a hospital. Riding behind her husband and daughter, Paula Volikakis, was also seriously injured in the crash on her motorcycle. This is just a tragic situation that has altered the lives of two families forever. That is why I urge all motorists to learn from this terrible tragedy.
First, you should only stop on a highway if it is an absolute necessity, and, of course in an area where you are able to safely maneuver your vehicle onto the side of the road, out of the way of traffic. Pull over onto the shoulder of the road and do not remain in the roadway. Secondly, living in North Central Florida, animals are frequently encountered on our roads and highways. However, it is important that we take our safety and the safety of other motorists into account when we have these encounters. For example, if an animal darts out in front of your vehicle, you should slow down and/or get over into another lane, only if it is safe to do so.
You should never try to swerve too fast to avoid an animal, as that maneuver can cause you to lose control of your vehicle, and even overturn. Swerving suddenly could severely injure you and any passengers, as well as other motorists and bystanders. This action, in most instances, would be much worse than hitting an animal.
If you are in need of a personal injury specialist, or have been involved in an automobile accident, just call me for a free consultation 24/7 at 1-800-800-2575 or contact us at bagenlaw.com and fill out our new case contact form. Drive safely!