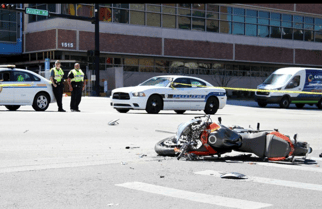 A traffic accident occurring Monday morning has left a motorcyclist in critical condition.
The accident occurred in front of UF Health Shands around 11:45 am. According to officials at the Gainesville Police Department (GPD), the crash involved one motorcycle and one car.
An engineering student at the University of Florida, Joe Steven Vincent Wagner, 23, was riding his orange Kawasaki motorcycle eastbound on Archer Road. Starke resident Glory Edith Jackson, 71, was traveling westbound in a Buick sedan on Archer Road. Jackson made a left turn onto Newell Road, driving into Wagner's path of travel. Police are still investigating which driver had the right of way.
As the accident took place near UF Health's Trauma Center, an emergency room doctor was in the area at the time of the crash and provided aid until emergency medical services arrived to transport Wagner into the hospital. Wagner, who GPD reports was not wearing a helmet at the time of the accident, was in critical condition as of Monday afternoon.
GPD has stated that excessive speed did not appear to be a factor in the crash. Due to the severity of the accident, GPD has launched a Traffic Homicide Investigation.
This accident echoes another UF student's crash that occurred in the same area of Archer Road almost one year ago. Andreas Dinopoulos, 22, was also riding a Kawasaki eastbound on Archer Road. A large box truck, traveling westbound on Archer Road, was turning left onto Newell Road when Dinopoulos struck the truck's rear wheel and was killed.
Accidents like this are an unfortunate reminder of why wearing helmets and obeying traffic laws are so crucial. However, Steven Bagen & Associates also understands that sometimes even the most scrupulous of defensive drivers can be involved in traffic accidents. If you or someone you know has been involved in a crash, be sure to contact us online or call (800) 800-2575. We are available 24/7, so we can be there for you in case the unexpected happens.