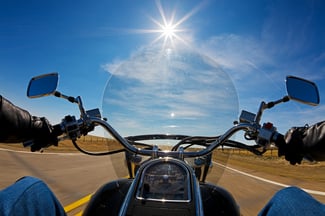 Summer is a time to be carefree and enjoy the great outdoors. From beach days to road trips, everyone is out on the roads trying to get from point A to point B safely. With more people traveling, road safety becomes that much more important during these summer months, especially for motorcycles. Already at a disadvantage due to the size and weight comparison between a standard motorcycle and car, drivers and riders must remember to be vigilant on the roads this summer.

Around 5,000 motorcycle accidents occur per year and, according to the U.S. Department of Transportation, usually involve multiple vehicles. Often, the rider is thrown from the motorcycle and hits objects in the ejection path—usually the road or other vehicles—which is what increases the likelihood of a fatal crash.
In a recent crash in New Hampshire, a truck driver caused a multivehicle crash in which he collided with 10 motorcyclists, resulting in seven deaths and three people being hospitalized. The truck driver is charged with seven counts of negligent homicide. The community has rallied around the families of those who have passed, creating a gofundme page to mitigate some funeral costs. At the time of publication, the page, created shortly after the crash, had already raised more than $470,000.
The U.S. Department of Transportation reported in 2018 that motorcyclists were 28 times more likely than car passengers to die in a traffic crash. Don't take a chance this summer. Always keep the following in mind:
Wear a DOT-approved and secure helmet. The U.S. Department of Transportation estimates that helmets saved 1,859 motorcyclists' lives in 2016.
Be ready for the road. Make sure you have a valid driver's license, check your tire pressure and breaks, drive defensively, and wear bright or reflective clothing that is durable.
If you are riding with a passenger, note that it will require more skill as your balance may be off and you might be distracted.
Stay vigilant on the road and always look twice before you maneuver. This one applies to drivers of any type of vehicle!
Stay safe this summer and be conscious of your driving practices. Respect the road and everyone on it. If you find yourself in an accident this summer and you are in need of expert representation, contact Steven A. Bagen: Call us at 800-BAGEN-LAW or visit our website.