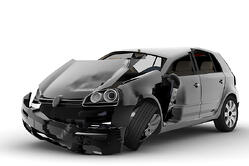 Sometimes, a car accident victim first feels the need to contact an attorney due to frustration in dealing with their property damage claim. Typically, clients call us with a lot of questions and frustration regarding their property damage claim. Handling the property damage claim and damage to the vehicle represents the first time that many accident victims have an opportunity to speak with the insurance adjusters. Disputes arise over the amount of the repairs; whether the body shop plans to use new parts vs. used parts; whether the car should be totaled; whether the car can be replaced with a brand new car; the amount of the property damage check if the vehicle must be totaled; the payment to the bank or other lien holders, etc.
Unfortunately, during the early stages of a case, most people have no idea what the true extent of their injuries might be. Frequently, accident victims are still undergoing treatment and have not yet been released by their doctors. Unfortunately, some insurance carriers can try to take advantage of that situation.
Over the years, we have received many calls from accident victims who intended to only discuss settlement of property damage issues and damages to the car, and instead, wound up signing a release which settled both the property damage AND their personal injury case. Unfortunately, many times there is no way to reopen the personal injury case to receive additional money for injuries that were not diagnosed earlier.
Some insurance adjusters are very meticulous and ethical, but, unfortunately, some insurance adjusters are not. Some insurance adjusters like to use the property damage discussions and discussions about vehicle repairs to learn more about the injuries and the personal injury claim. After an accident, people often miss work and are worried about their transportation, etc. These people are more likely to accept a small amount of money from the insurance company rather than fair and proper compensation for their injuries at a later time. If you are later diagnosed with a serious injury, or perhaps even require surgery, it will be too late to claim these damages, if you have already settled the personal injury case.
Remember, the insurance companies will use the property damage discussions as an opportunity to discuss the personal injury claim, to take surveillance photos, obtain authorization to access medical records, and evaluate the injuries, as well as discuss the injuries in great detail. The purpose of this blog is to caution accident victims from discussing their personal injuries with the insurance adjuster while dealing with the adjusters on the property damage claim.
We are happy to assist with any property damage questions or issues if needed. This is a free service that we offer, as part of our Personal Injury representation. The insurance companies know that they cannot take advantage of an accident victim when the victim is represented by our office, which is why insurance companies generally discourage people from hiring an attorney. Again, I urge every accident victim to contact an attorney before meeting with any insurance company representatives to discuss damage to the vehicle, and please be sure not to sign anything from the insurance company without having an attorney review it first. Don't let the insurance company take advantage of you. If you have been injured in an accident, just call us anytime at 1-800-800-2575.