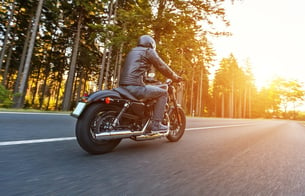 If you ride, then you know the freedom of an open road. The euphoria of cruising down a highway on a bike is a feeling that simply can't be replicated in a car. Motorcycle insurance is imperative to ensuring that the joys of riding stays alive.
While not legally mandated in the state of Florida, here are a few reasons why motorcycle insurance is an absolute must.
It Can Protect You
While riding a motorcycle is a thrill, it can also be dangerous. Motorcyclists have a higher risk of being involved in road accidents, as well as sustaining serious injuries in accidents. What makes riding so exhilarating, is the same thing that makes motorcycle crashes potentially devastating. Cars and trucks are typically surrounded on all sides, providing a physical buffer when another vehicle makes impact that motorcycles don't have.
Therefore, it is imperative to obtain motorcycle insurance to help protect you in a worst-case scenario. If an accident did happen, having the proper insurance policy in place can help you:
Pay for a replacement bike

Help cover medical bills and lost wages if you sustain physical damage in an accident

Compensate you for pain, suffering and inconvenience after a crash that's no fault of your own

Help provide financial assistance to family members or loved ones in the event of incapacitation or death
Just like any other insurance policy, motorcycle coverage can be basic or it can be comprehensive. Not all insurance coverages and policies are the same, and some might not cover everything. Paying a monthly or annual amount of money to keep your bike and yourself properly insured is certainly worth avoiding the potential financial ruin should an accident happen.
Make sure you call your insurance agent and tell them you need:
Collision coverage

Medical Payments coverage (MedPay); and

Uninsured Motorist coverage (UM).
If you're not sure if your motorcycle has the proper coverages, feel free to call us anytime before calling your insurance agent.
If you or anyone you know has been in a motorcycle accident, it may be in your best interest to contact an attorney. At Steven A. Bagen & Associates, we go the distance to make sure that the spirit of the open road is kept alive through vigorous representation of our valued clients.
Contact us today if you think you have a case.